Newsletter - Corporate Public Issues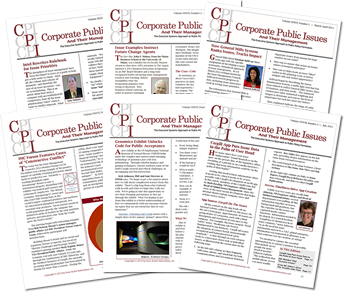 Since coining the term "issue management" in 1976, CPI editors continue to probe for, create and share with our readers the most innovative and effective issue management tools available. Through CPI, you receive unduplicated, hands-on, practical guidance on how to advise your organization as its Issue Process Steward. This is a unique intelligence report that is practical yet provocative and geared toward your success.
Issue and Crisis Management

Written by one of Australia's leading experts in issue and crisis management, this book introduces and examines each of these elements, and explores their relationship as an integrated model within the broader contexts of public relations, communication and management.
Details...

Strategic Reputation Risk Management

This book focuses on how enhanced reputation can contribute to commercial asset management. It also looks at how reputation loss can erode the ability of business to retain market share, maximize shareholder value, raise finance, manage debt and remain independent.
Details...

The Critical Issues Audit

Are you sitting on top of issues that could escalate into a major threat to your corporate reputation? This workbook by Eli Sopow is a series of self-administered tests that will reveal where your vulnerabilities are, and how to position your company on the leading edge. Details...

A Stakeholder Approach to Issues Management

Issues management is an inexact science. However, the view guiding this book is that issues management is an applied social science and is therefore subject to the same peculiarities as all other branches of the social sciences. Details...

Radarscan

Tools described in this succinct manual include the Issue Probability-Impact-Risk Assessment worksheet, the Issue Summary, a 20-step Persuasion Guide, and the RadarScan Issues Management Model, which begins with assessing the Organizational "Soul" as a values filter for action. Details...

Anticipatory Management

This essential guide puts at your fingertips a set of powerful tools to enable you to anticipate and influence external activities that affect your organization's strategies leading you in applying methodologies such as the Strategic Trend Intelligence System, the Issue Vulnerability Audit, the Issue Analysis Worksheet, and more. Details...

Crisis, Issues and Reputation Management

Reputations are acknowledged by corporate leaders to be their most important assets, but are they properly understood, proactively managed and protected from potentially damaging issues and crises? In this book, Andrew Griffin looks at where risks to reputation come from and how organizations can predict, prevent and prepare for them. Details...