Enhancing Your Issue Management Effectiveness
Issue Action Publications, Inc. feeds business leaders and the practitioner community with the dynamic base of knowledge and best practice on which the issue management field is built. Here, you will find materials that define and illustrate pragmatic tools that support leading companies around the world as they transform pressing issues into new sources of competitive value.
Newsletter - Corporate Public Issues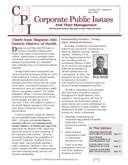 Since coining the term "issue management" in 1976, CPI editors continue to probe for, create and share with our readers the most innovative and effective issue management tools available. Through CPI, you receive unduplicated, hands-on, practical guidance on how to advise your organization as its Issue Process Steward. This is a unique intelligence report that is practical yet provocative and geared toward your success.
Register for a Free Preview
Purchase Now